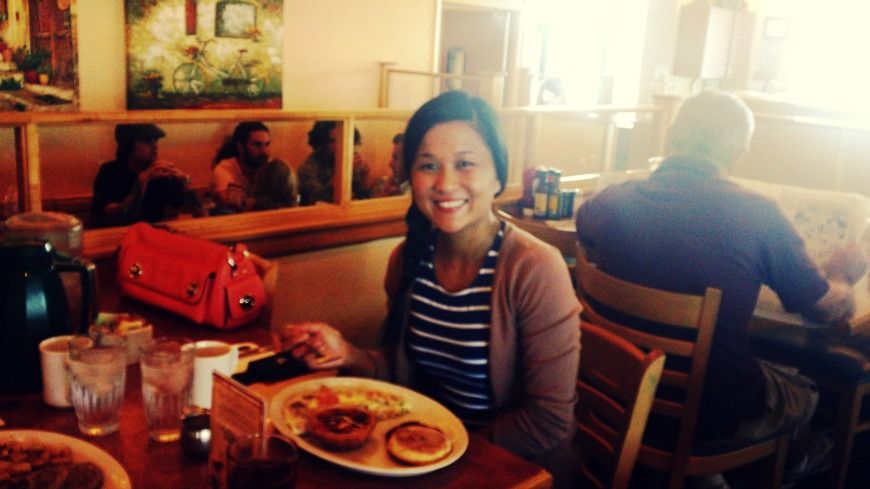 Me enjoying an omelette and soup at The Good Egg
Loving:
The month of September. Although I'm in Arizona and it hasn't cooled down yet, I can still feel something in the air shift, indicating that it is in fact, the beginning of Fall. It's funny to me when I see people sporting scarves already (especially because it's still summer temperatures) and rocking the leather boots...it shows me that people are excited about the season too by using Fall fashion to rebel against desert-like weather. In less than 2 weeks, I'll be turning 28 and for the first time in my life, I'm not worrying about birthday plans; just letting things go with the flow, truly loving it.
It's only been less than a week but already loving the
4 Simple Goals Before 2013
. I've been working on my goals each day and already I feel the goals create more feelings of self-satisfaction. Each day, I strive to snap a photo of something I appreciate, whether small or big - - it serves as a reminder to be grateful of something every single day!
Reading:
Two books right now.
I Was Told There'd Be Cake: Essays by Sloane Crosley
, a book I am borrowing from a co-worker. Do you ever just agree to read someone's recommended book to encourage friendship building, especially when it's a new friend? She has a very witty way of telling her stories and makes me want to think her essays are all 100% personal life stories from her own, but I can't tell. Very witty, but I'll admit some of her essays are random like volunteering for a butterfly museum for the first time and (yawn) how it ended...Which explains why..
I picked up a second book which is called
The Oz Principle by Tom Smith.
A book that puts a positive spin on the word accountability, and not only when things get rough. Because we own our success, we will never be successful if we are to play the victim or blame game. It's a very motivating book if you need a pick-me-up for work. I like to read a few pages before I actually start working in the morning, and it serves well for a 'ready, set, Go' moment.
Watching:
Thank you, Netflix. I love you. Never again, will I need to suffer through commercials and unwanted television. As of last few weeks, these are some of the movies/shows I watched:
The Biggest Loser
(Season 1 - - my workout role model Jillian Michaels is in this one...YES!)
Jiro Dreams of Sushi
(A documentary about a famous sushi chef in Japan that has a restaurant in a subway station - - he even won the Michelin award)
Clue
The Secret
(I appreciate the gist of it..however, I appreciate the cheesy acting more)
Thinking About:
How I totally slacked off working out last week. I worked out today for 40 minutes and on a weekday last week, for about 20-30 minutes. I could blame it on my demanding work schedule, my lack of energy, and my love for reading - - but The Oz Principle has taught me that blaming other circumstances will never fully solve the problem. So, what's the bottom line? I chose to not wake up an hour early on the weekdays and wanted to sleep instead. My fault, 100%. The beauty of failing or not meeting personal goals, though?
There's a second chance, if you choose to take it. I'm going to try again this week.
Anticipating:
Gosh, I know it's early in the week but I'll admit it - - I can't wait for the weekend to get here already! There's lots of social events coming up such as a friend's going away party and my birthday celebration with my loved ones. Because I worked 6 out of the 7 days last week, I can't wait to only work 5 days. Yes....
Wishing:
I was better with time management, especially when it has to do with my precious blog. Ever since I started working full time, I feel that I haven't been able to dedicate my time to my blog as much as I'd like to and hope that you are all still finding my blog, interesting in any way. I hear about moms out there that have a full-time job and own a business, that can still manage publishing a post every single day! I wish I can be like that...I'm working on it the best way that I can. I wish and I hope you know that even though I've had a few days off from blogging due to adjusting - - I will fully adjust one day and find a good balance.
Stressing about:
I
was
stressing about my current job (hardcore). It got real ugly. I would bring the stress and pressure I gathered from work back to my home...so the work stress never left my body and mind. So, what was the big deal, you may ask? I was honestly just worrying about meeting certain goals, even though I've only been there about a month now. I didn't fully appreciate the good efforts I made and let the little 'failures' ruin my day. I was an idiot to let such things ruin a day...I think I'm a lot better about it now, and will apply a couple of new perspectives I learned last week, into this new week.
Making me Happy:
Weekends with my boyfriend and his daughter. Weekends in general. Lasagna. Italian food, just all of it. Mini golf with loved ones. Cool September evenings. Reading my favorite blogs. My workout text buddy (we hold each other accountable to work out). Hot Lipton Tea. Protein Shakes. And blogging. Yeah, it always feels good to put my thoughts down on virtual paper and publish it for the whole world to see. Not caring what others think of me makes me happy, because I'm happy to be me.
What about you? What's stressing you out but also making you happy? Watching anything worth noting as of late? What books do you recommend (I'm almost done with my two and need more!)? As always, thanks to
Danielle
for the inspiration behind creating posts like these.