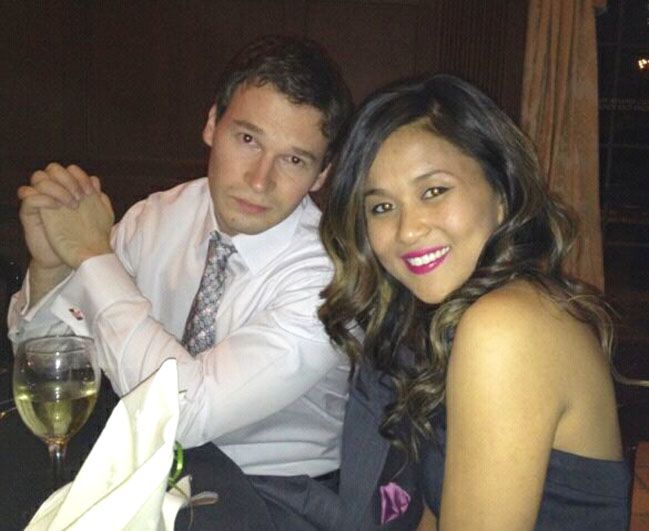 One of our very first pictures taken at a friend's wedding almost 2 years ago :)
Thinking About
: How difficult it is to get back into the swing of blogging after taking a month-long break from it. I didn't plan for it but after reflecting back on this past April, I'm glad I did. It gave me time to re-prioritize some things in my life and invest my energy toward what matters to me most. The most common topics I seem to be mulling over these days consist of the following (in no particular order):
Fitness and the power of transforming one's body through proper weight lifting routines
The cultural upbringing from Asian immigrant parents and how that effects their children's career paths (doctor/lawyer/accountant versus a creative-based career)
Why some people seem to think it's okay to be two-faced and not have an ounce of guilt/shame. Where's the human decency or better yet, the courage to be yourself?
Some fun secretive surprises I have up my sleeve for my honey this month
Feeling
: Motivated but tired at the same time. As I was re-measuring myself and comparing the numbers to last month, the progression I have accomplished has motivated me to work out that much harder and more consistently. Tired because I'm a night owl, have the tendency to ignore the clock on purpose so I can fully unwind, read my book, read a bunch of fitness model interviews in regards to their nutrition and workout plans, go on Pinterest to feed my brain with art/illustration pins, and then oh crap - - I've got to wake up in 5 hours...hmm...
Watching
: Just watched (most of) Hunger Games last night (finally). Checked out a few episodes of Hemlock Grove on Netflix (a unique sci-fi type involving wolves, vampires, and a splash of suspenseful drama). Recently went to the movie theaters for Oblivion, the latest Tom Cruise movie and was impressed with the unexpected plot twists as well as the computer graphics. Oh, and if you're in the mood to get spooked hardcore, go check out Evil Dead, the latest one in theaters - - a grueling mix of exorcism, bloody gore, and camera angles that will make you nervous from beginning to end.
Reading
: The Power of Habit by Charles Duhigg. If you're looking for a good read while learning how to truly change the way you live your life - this is the book for you. Did you know that habits inhabit 80% of our day? The more you understand how to effectively create or break habits, the more effective you will be at living the life that you want.
Looking forward to
: Our family weekend getaway to the beach very soon! Just imagining how the sand is going to feel against the bottom of my feet while having the California sun kiss the tops of my feet - - my heart is already starting to race. I've been doing a lot of bikini hunting and it's almost time to seriously amp up my nutrition and workout routine.
Making me happy
: thinking about how happy my love will be when he discovers some of my upcoming surprises, Iron Man 3 happy hour with some old co-workers this weekend, meme generators, glute exercises, playing and acting silly with my sweety and baby girl, Nick's Italian restaurant in Scottsdale, homemade protein style burgers, and last but not least, visiting my family on Sundays to catch up while hanging out with a cool basset hound.
What's new with you? How's your first half of 2013 going so far? Thank you Danielle from
Sometimes Sweet
for the original inspiration behind these fun "currently" posts!